Find Missing Numbers in a Sequence in Excel
This post will guide you how to find missing numbers in a sequence with a formula in Excel. How do I identify missing numbers in a consecutive series in Excel. How to find missing serial number in Excel 2013/2016.
Find Missing Numbers in a Sequence in Excel
---
Assuming that you have a serial number list in Column B, and you want to find the missing number in this sequence list. How to achieve it.
You can use an excel array formula based on the SMALL function, the IF function, the ISNA function, the MATCH function, and the ROW function. Like this:
=SMALL(IF(ISNA(MATCH(ROW(B$1:B$20),B$1:B$20,0)),ROW(B$1:B$20)),ROW(B1))
Type this array formula into a blank cell, and then press Ctrl + Shift + Enter keys in your keyboard.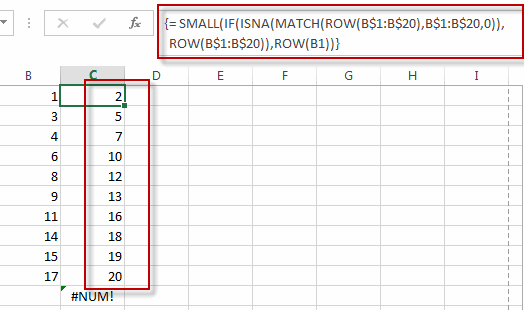 The missing numbers are listed in cells.
Note: this formula will check the given sequence from 1 to 20 if there are missing numbers. If so, returns the missing numbers.
Or you can use another array formula based on the Small function, the IF function, the Countif function and the row function to achieve the same result. Like this:
=SMALL(IF(COUNTIF($B$1:$B$10,ROW($1:$20))=0,ROW($1:$20),""),ROW(B1))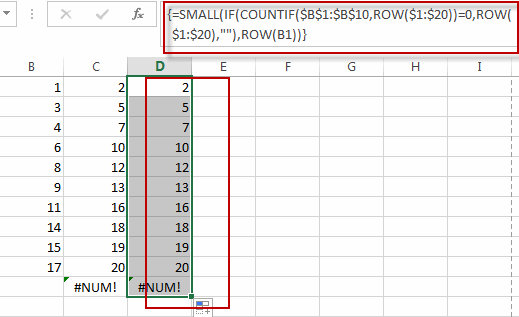 Related Functions
---