Creating a wedding expense budget is one of the most important planning tasks for a wedding event. Wedding budget planning is not a daunting task and you can refer to certain samples to see the percentages of the wedding budget which will help you know exactly how to come up with the allocation of various dollar amounts.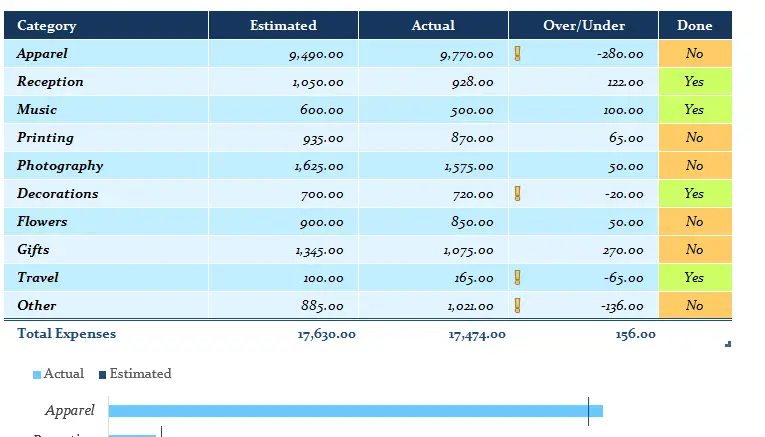 The breakdown of wedding expenses depends on many factors, such as wedding venue, catering, wedding rings, photography, flowers, wedding gifts, etc.
This article will introduce a free Excel wedding expenses template that can help you track estimated and actual expenses for your wedding. The template allows you to track the progress of your wedding more visually with bar charts, and the exclamation points in the expense sheet allow you to see at a glance which items are over or under budget.
Wedding expenses budget  
This Wedding expenses budget is officially provided by Microsoft Excel, you can create the template directly in Excel application or download the template through the official website.
You can use this Wedding expenses budget template to keep track of your wedding expenses.
This template contains 2 sheets: Wedding Budget, Expenses.
Where,
Wedding Budget: This sheet contains a summary of the expenses for the different items in the wedding, as well as a bar chart showing a comparison of projected and actual expenses for the different items.
Expenses: This sheet contains a breakdown of the expense of the different items in the wedding.
Let's see how to use this wedding budget template:
Step1: Open the Microsoft Excel Spreadsheet application, click on the File menu, and then click on the New submenu
 Step2: In the New dialog box, find the template search box, type in the Wedding expenses budget keyword and press enter, you will see the Wedding expenses budget template.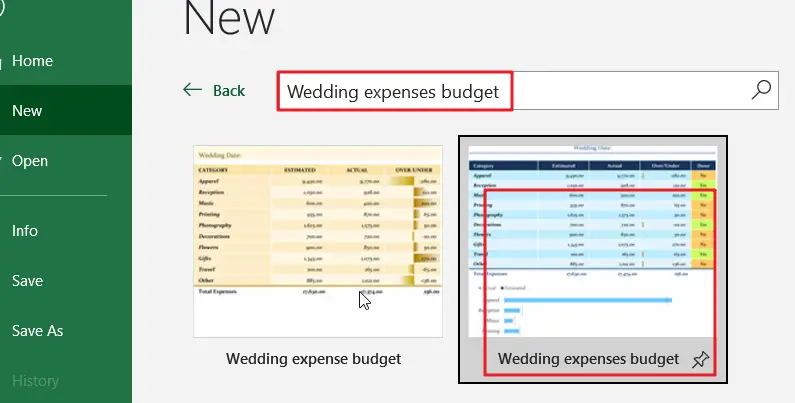 Step3: Click the Create button to download the selected wedding expense budget template to create a new wedding expense budget spreadsheet.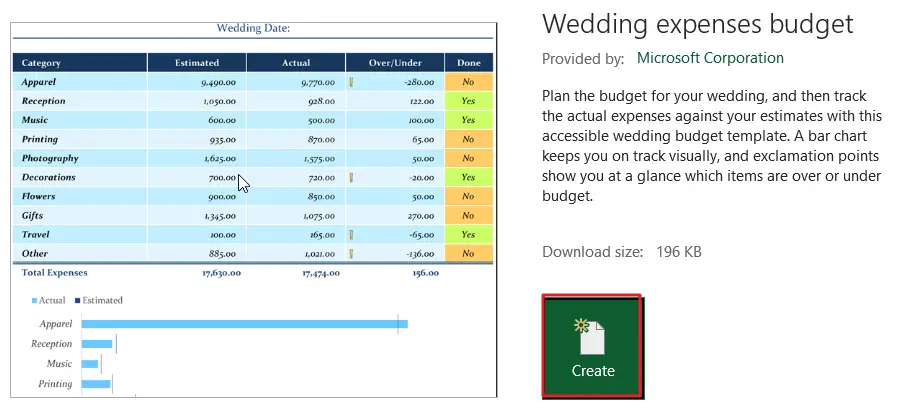 Step4: You need to enter your Wedding Date in cell B5 in Wedding Budget sheet。

Step5: You need to enter expenses details under each expense category in Expenses sheet.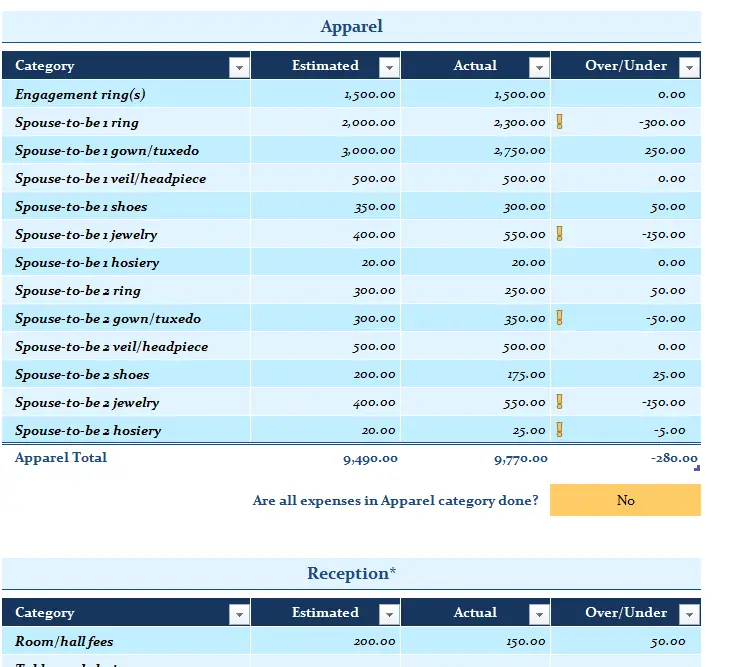 Step6: When you enter the details of your wedding expenses in the Expenses worksheet, the data in the statistics and bar charts in the Wedding Budget worksheet are automatically updated as well.
If you have any other personalized custom budget template needs, you can send us a message.
If you are looking for Wedding expenses budget template, check out Microsoft office site by clicking here.