The Vacation Budget Template is a very useful tool that can help you plan your trip to your dream destination. Vacations are an effective way to relieve the stress of our daily lives. You can take your family on a beach vacation or a picnic in the park , it will not only relieve the stress of life, but also increase the happiness of your family.

You will need to plan your budget based on your city or destination city. Because some places will have a lower cost of living, but some places will have a higher cost of living.
Before making a vacation budget, you need to set the maximum budget amount and after that choose the right destination. Based on the determined destinations, we need to find out the transportation methods and accommodation prices. When we finish these researches, we can start to make a vacation budget.
This article will introduce a free Excel vacation budget template that will help you plan the cost of your vacation and compare it to your total budget. You need to plan your vacation costs in advance so you know exactly how much we can spend in certain key categories.
Vacation budget planner
This Vacation budget planner is officially provided by Microsoft Excel and you can create the template directly in the Excel application or download it from the official website.
You can use this vacation budget planner template to track your expenses for various events during the holidays.
This template only contains one worksheet: Budget Planner. This worksheet will help you plan your budget for your vacation, which contains budgets for each category.
Let's see how to use this vacation budget template:
Step1: Open Microsoft Excel Spreadsheet, click on the File menu, and then click on the New submenu
Step2: In the New dialog box, find the template search box, type in the keyword " Vacation budget planner" and press Enter, you will see the Vacation budget planner template.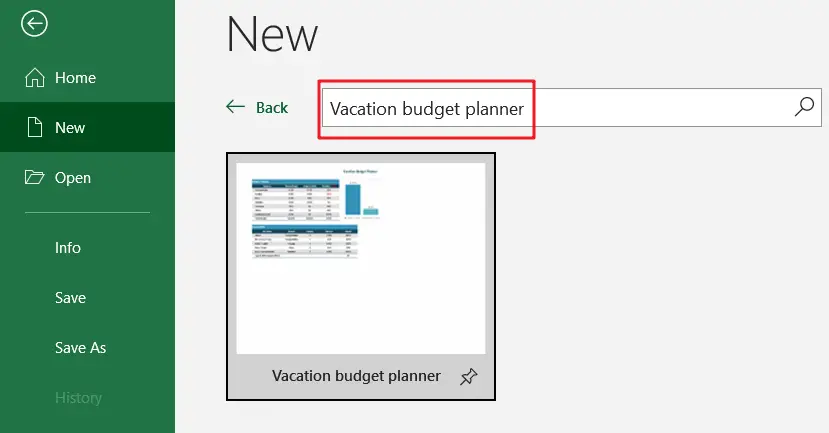 Step3: Click the Create button to download the selected Vacation budget planner template to create a new Vacation budget planner spreadsheet.
 Step4: You need to enter the estimated expense amount for each category in the category table and the actual expense will be calculated automatically by the SUMIF formula.

Step5: You need to enter the details of each category in the EXPENSE DETAILS table.

If you still need a customized budget template, you can send us a message.
If you are looking for Vacation budget planner template, check out Microsoft office site by clicking here.