The Personal Monthly Budget Template helps you plan your monthly expenses. The monthly budget template enables you to compare your projected monthly expenses, projected income and actual expenses and income. Most importantly, the monthly budget template gives you a clearer picture of your current financial situation.
You can create your personal monthly budget template using a Microsoft Excel spreadsheet, or you can use an existing template to make sure you don't overlook important financial information.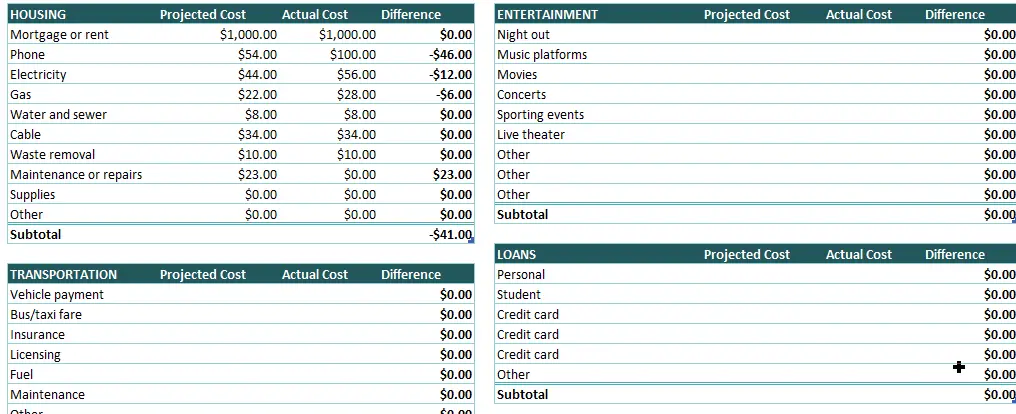 The budget template helps you keep track of your expenses and income and also makes it easy to keep track of some details. It gives you an overview of your monthly financial situation, including all types of income and expenses. You can add and remove categories as needed, customize expense or income categories.
This article will introduce a free monthly budget template in Excel that allows you to compare your estimated monthly income with your actual monthly expenses. The template can also be used to track monthly expenses for housing, food, entertainment, and transportation.
Personal Monthly Budget
This Family budget template is officially provided by Microsoft Excel and you can create the template directly in the Excel application or download it from the official website.
You can use this Personal monthly budget template to track your monthly income and expenses.
This template contains two worksheets:START, PERSONAL MONTHLY BUDGET.
Where,
START: This worksheet contains the basic usage of the template. Additional instructions have been provided in column A in PERSONAL MONTHLY BUDGET worksheet. This text has been intentionally hidden. To remove text, select column A, then select DELETE. To unhide text, select column A, then change font color.
PERSONAL MONTHLY BUDGET: The worksheet contains expense data for each month in different categories and contains statistics for each month such as projected total revenue, actual total revenue, projected total balance and actual total balance.
Let's see how to use this personal monthly budget template:
Step1: Open Microsoft Excel Spreadsheet, click on the File menu, and then click on the New submenu
Step2: In the New dialog box, find the template search box, type in the keyword " Personal monthly budget" and press Enter, you will see the Personal monthly budget template.
Step3: Click the Create button to download the selected Personal monthly budget template to create a new Personal monthly budget spreadsheet.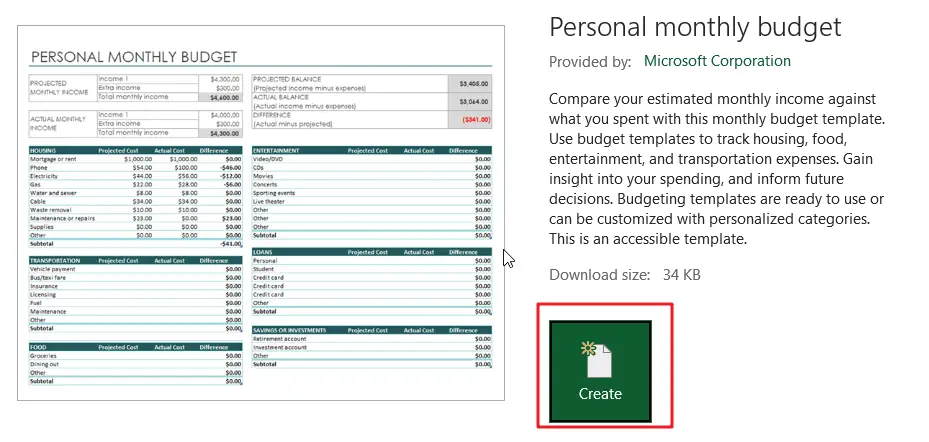 Step4: You need to enter the projected income amounts for the different categories in the PROJECTED MONTHLY INCOME worksheet.

Step5: You will need to enter the actual income amounts for the different categories in the ACTUAL MONTHLY INCOME worksheet.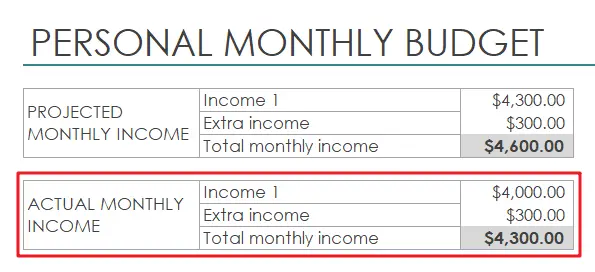 Step6: You need to enter the estimated and actual expense data in the different sub-categories of the expense category table. The template contains the following expense categories: HOUSING, ENTERTAINMENT, TRANSPORTATION, LOANS, INSURANCE, TAXES, FOOD, SAVINGS, PETS, GIFTS AND DONATIONS, PERSONAL CARE, LEGAL, etc.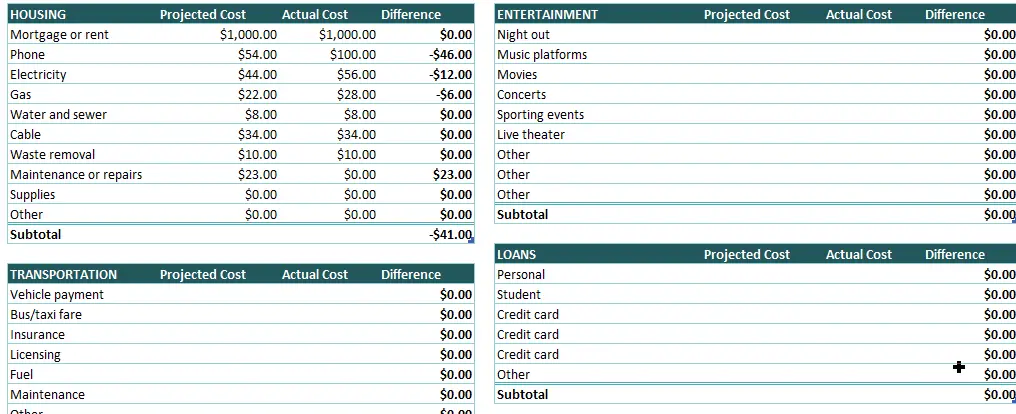 If you still need a customized budget template, you can send us a message.
If you are looking for personal monthly budget template, check out Microsoft office site by clicking here.