For college students, a college budget is a key element to help them manage their money and make sure they don't overspend. When you want to create a college budget, you can start by figuring out all the expense and income items, and then you can create your college budget through Microsoft Excel application or Google Sheets online spreadsheet.

Most college students will have a variety of different income and expense items. Income items may come from family members, grants, loans, or money you earn from your job. Expense items may include monthly necessities, tuition, rent, internet, car repairs, parking, credit card payments, books, or medical expenses.
Expense items may include variable costs, such as dining out, entertainment, clothing, cabs, etc.
In order for you to juggle savings, grants, scholarships, student loans or other income to cover your tuition or other variable costs, then you can make a college budget spreadsheet to track all of your income and expenses.
This article is going to introduce a free college budget template that will help you check your monthly expenses and income, so you can easily adjust it to your needs.
Monthly college expense budget   
This Monthly college expense budget is officially provided by Microsoft Excel, you can create the template directly in the Excel application or download the template from the official website.
You can use this monthly college expense budget template to track your monthly expenses and income while you are in college.
This template contains one sheet:Income and expenses.
Where,
Income and expenses: This sheet contain a breakdown of monthly income items and expense items, as well as a breakdown of semester expenses.
Let's see how to use this college budget template:
Step1: Open Microsoft Excel Spreadsheet, click on the File menu, and then click on the New submenu
 Step2: In the New dialog box, find the template search box, type in the keyword " Monthly college expense budget " and press Enter, you will see the Monthly college expense budget template.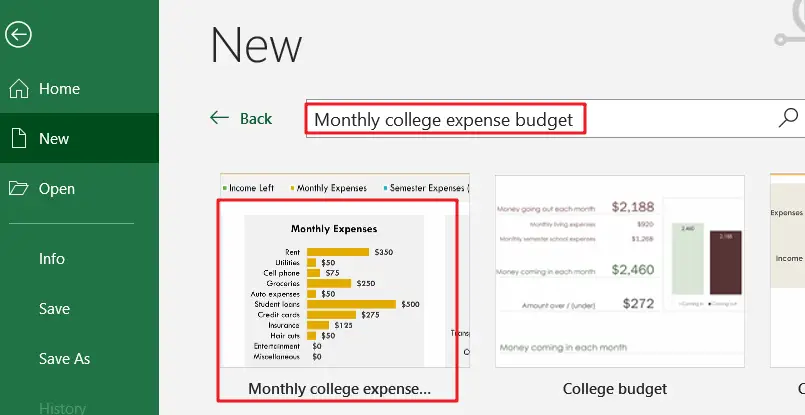 Step3: Click the Create button to download the selected Monthly college expense budget   template to create a new Monthly college expense budget spreadsheet.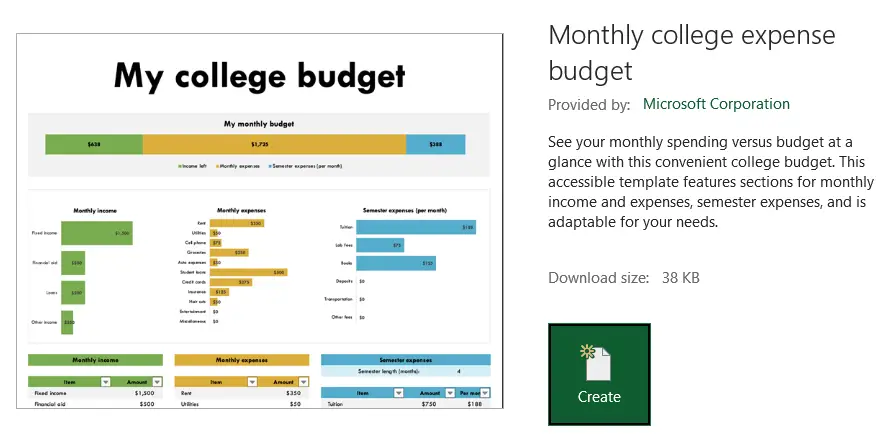 Step4: You need to enter the appropriate data in the Monthly Income, Monthly Expenses, and Semester Expenses tables at the bottom of the Income and Expenses worksheet, such as a breakdown of different income items, a breakdown of different expense categories, and a breakdown of different semester expense items.

Note: The total data for each table is automatically calculated using the SUBTOTAL formula.
Step5: Once you have entered the corresponding income and expense data, the template will display the different income or expense categories in the form of a bar chart.

If you have a need for a custom budget template, you can send us a message.
If you are looking for Family budget template, check out Microsoft office site by clicking here.