This post will guide you how to filter values starts with number or letter in one single cell in Excel. How do I filter in a list those that begin with number or letter using a formula in Excel.
1. Filter Cells Starts with Number or Letter
Assuming that you have a list of data in range B1:B4 which contain text string values. Ad you want to filter those cells values which are starting from a number or letter. The below steps will show you how to filter the data which starts with numbers or letters only.
Step1: select one blank cells in the adjacent Cell B1. And enter the following formula based on the ISNUMBER function and the LETF function.
=ISNUMBER(LEFT(B1)*1)
Note: Cell B1 is the first cell in your data which you want to filter out values that starts with number or letter.
Step2: press Enter key to apply this formula.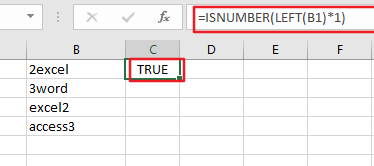 Step3: then drag the AutoFill Handle in Cell C1 down to other cells to apply the same formula. You would see that if the data starts with a number, then returns TRUE. Otherwise, returns FALSE.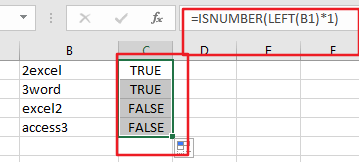 Step4: select the cell C1 in the helper column, go to Data tab in the Excel Ribbon, and click Filter button under Sort & Filter group. And one Filter icon will be added into the Cell C1.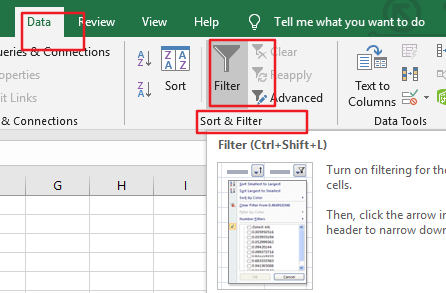 Step5: click filter icon in the Cell C1, and check True to filter out all data that starts with number. Click Ok button.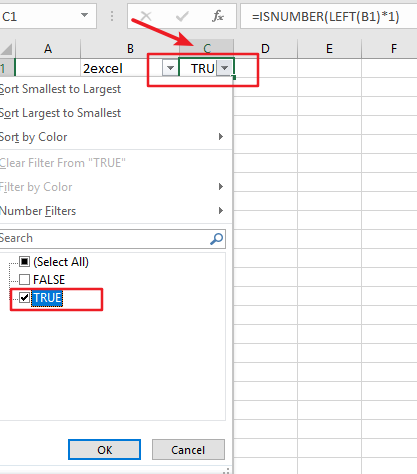 Step6: let's see the last result:

2. Video: Filter Cells Starts with Number or Letter in Excel
This video will guide you through using a formula with the ISNUMBER function and Sort & Filter feature to effectively filter cells that start with a number or letter in Excel.
3. Related Functions
Excel ISNUMBER function
The Excel ISNUMBER function returns TRUE if the value in a cell is a numeric value, otherwise it will return FALSE.The syntax of the ISNUMBER function is as below:= ISNUMBER (value)…
Excel LEFT function
The Excel LEFT function returns a substring (a specified number of the characters) from a text string, starting from the leftmost character.The LEFT function is a build-in function in Microsoft Excel and it is categorized as a Text Function.The syntax of the LEFT function is as below:= LEFT(text,[num_chars])…