Most people eat three meals a day, so over time, we also spend a lot of money on our diets. When you want to provide nutritious food for yourself or a loved one, you also need to consider your financial situation, so managing food costs is also an important part of life.
In order to manage your household food costs, you need to develop a reasonable food budget spreadsheet so you can track how much your family spends on food through the food budget spreadsheet.
Before you go grocery shopping, you can create a detailed food budget plan that will not only help you save money, but will also give you a quick idea of how much you're spending on each food item.
The preparations before developing a food budget are as follows:
You need to plan your menu for the week based on your schedule so you know what to buy when you go to the grocery store, which will save you time shopping; if you make a weekly menu, the chances of you going out to eat or take out will be minimal.
Make a detailed shopping list
Keep an eye out for ads at your local grocery store, and you can easily plan your weekly menu based on the food categories that are on sale that week.
This article will introduce a free Excel food budget template that will help you track your household food expenses and can be broken down by category, location and date. Creating a food budget is much easier with the Excel food budget template. The budget template enters a category for each expense and allows you to focus on details using convenient filter buttons.
Food budget
This Food budget is officially provided by Microsoft Excel, you can create the template directly in Excel Application or download it through the official website.
You can use this food budget template to track your household food spending and break down spending by category, location and date.
This template contains 2 sheets: Your expenses, Report.
where,
Your expenses: This sheet is used to record the breakdown of expenses for each food item, which includes DATE, Category, Food Name, Amount, Price per item, Price(sum), Where to Buy。
Report: This sheet contains some statistical tables created from pivot tables,including: Expenses by food category, Expenses by food category in choosen dates period, Expenses by places, Expenses by places in choosen dates period.
Let's see how to use this food budget template:
Step1: Open the Microsoft Excel Spreadsheet application, click on the File menu, and then click on the New sub-menu
Step2: In the "New" dialog box, find the template search box, enter the keyword "food budget" and press enter, you will see the food budget template.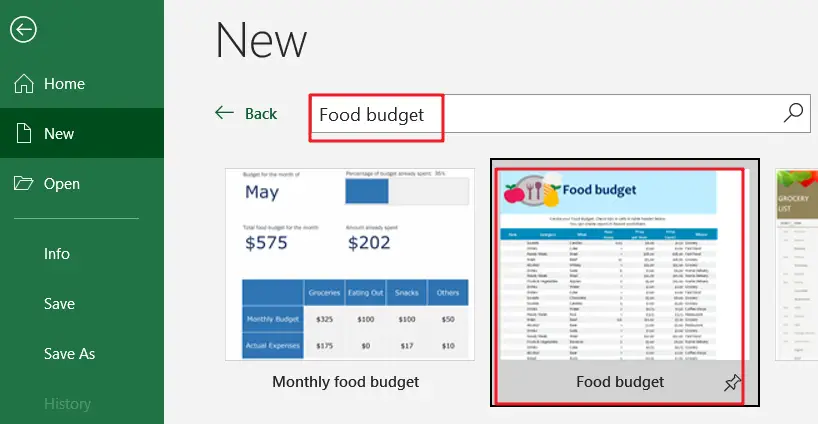 Step3: Click the Create button to download the selected food budget template and create a new food budget spreadsheet.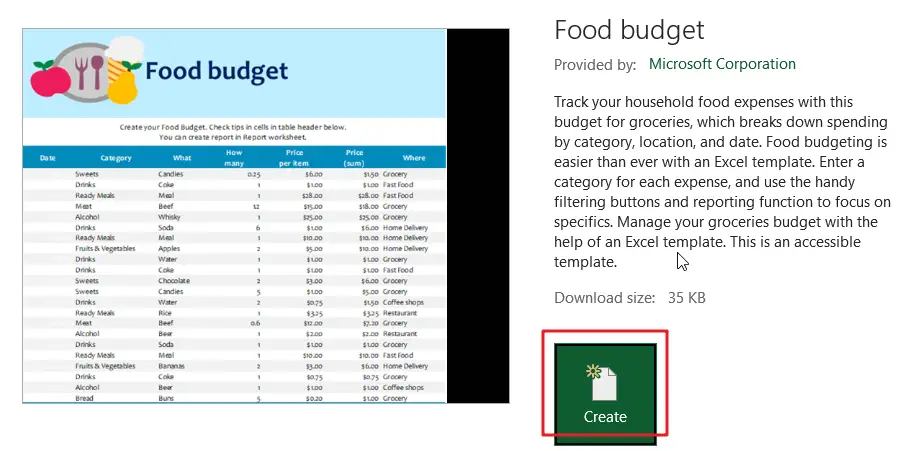 Step4: You need to enter the details of each food item in your expense worksheet.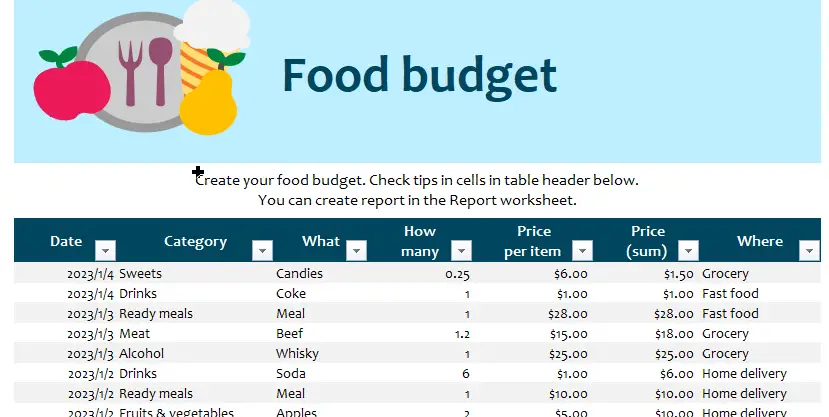 Step5: Once you have entered the expenditure details for each food item, you can go to the Report worksheet and you can see that the data for the four statistical reports has been automatically updated.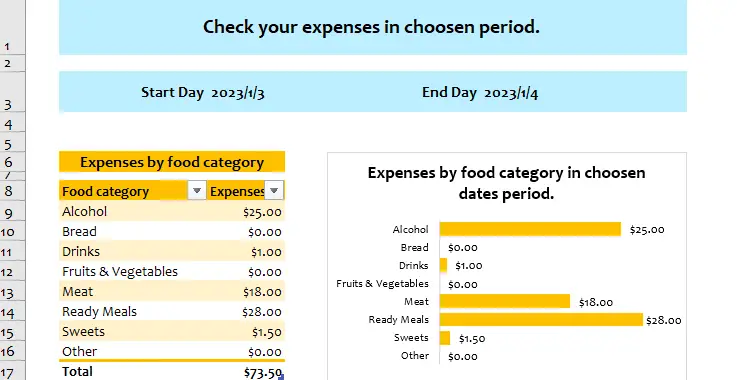 If you are looking for Food budget template, check out Microsoft office site by clicking here.