Filter Out Weekends and Weekday
This post will guide you how to filter out weekend or weekday from a list of data in Excel. How do I filter out the data in all Weekends in Excel. How to filter out all data in all weekdays in Excel.
Filter Out data in Weekdays and Weekends
---
If you want to filter out the data that belong to all the weekends or weekdays in Excel, how to achieve it.  You can use a formula based on the WEEKDAY function to return a number 1-7 for each day of the week.  The number 1 indicates that it is Sunday, and the number 7 indicates that it is Saturday.  Then you can use the Filter feature to filter out the data based on the week number. Just do the following steps:
#1 Type the following formula in a cell adjacent to the date column.
=WEEKDAY(B2)
#2 press Enter key in your keyboard, and then drag the AutoFill Handle to other cells to apply this formula.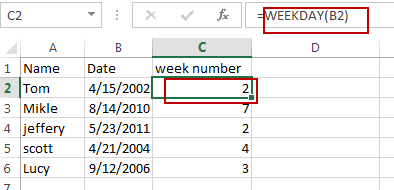 #3 keeping the week numbers are selected, and go to DATA tab, click Filter command under Sort & Filter group.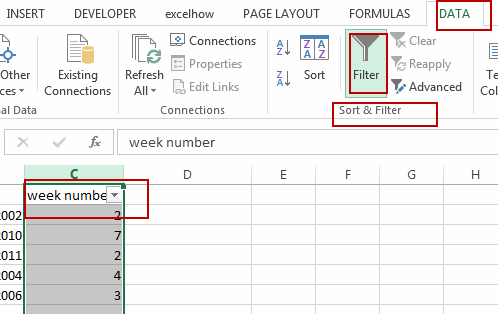 #4 click Arrow button in week number filed, checked 1 and 7 to filter out all weekends. Or checked 2-6 to filter out all weekdays. Click OK button.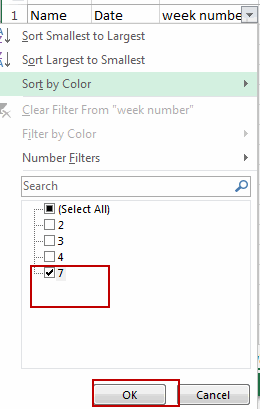 #5 let's see the result.

Related Functions
---
Excel WEEKDAY function
The Excel WEEKDAY function returns a integer value representing the day fo the week for a given Excel date and the value is range from 1 to 7.The syntax of the WEEKDAY function is as below:=WEEKDAY (serial_number,[return_type])…