Most people don't like to make a budget, but it is an important part of your life. Because a budget helps you plan your monthly spending and you can see your spending habits through a budget spreadsheet, you can easily curb overspending.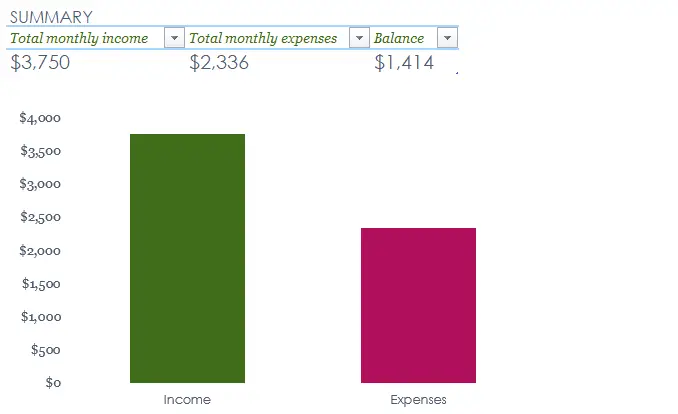 The current inflationary situation in our society is still severe, which can make many people nervous about their monthly expenses, and you can alleviate this situation by creating a budget.
A budget can help you track, plan and monitor your monthly expenses and achieve your financial goals. Before creating a budget, you need to figure out your monthly income, monthly expenses, and also consider unavoidable monthly expenses, such as rent, food, credit card bills, car expenses, etc.
This article will provide a free EXCEL monthly budget template that you can use to help you keep track of your money each month. You can see how much you earn, how much you spend, and what you spend your money on with the monthly budget sheet. You can get a clear picture of your overall financial situation with the summary sheet, which will help you plan your long-term and short-term goals.
Easy monthly budget   
This Easy monthly budget template is officially provided by Microsoft Office and you can create the template directly in the Excel application or download it from the official website.
You can use this easy monthly budget template to track your monthly finances.
This template contains 3 worksheets:Summary, Monthly income, Monthly expenses.
Where,
Summary: This worksheet contain income spent, total income, total expenses and a comparison chart. 。
Monthly income: This worksheet contains the amounts of different income items.
Monthly expenses: This worksheet contains the amounts of the different expense items
Let's see how to use this monthly budget template:
Step1: Open Microsoft Excel Spreadsheet, click on the File menu, and then click on the New submenu
Step2: In the New dialog box, find the template search box, type in the keyword " Easy monthly budget " and press Enter, you will see the Easy monthly budget template.
Step3: Click the Create button to download the selected Easy monthly budget   template to create a new Easy monthly budget spreadsheet.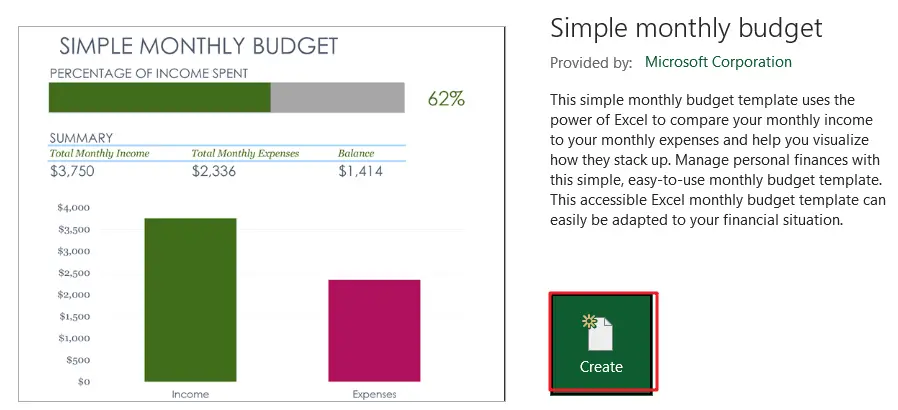 Step4: You need to enter Monthly Income items and amounts in Monthly Income worksheet.
Step5: You need to enter monthly expenses items and amounts in the Monthly expenses worksheet.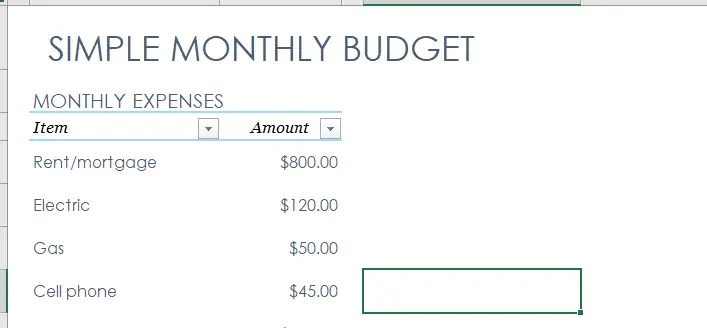 Step6: The income and expense comparison chart in the summary worksheet is automatically updated when you enter the corresponding data in the monthly income and monthly expense worksheets.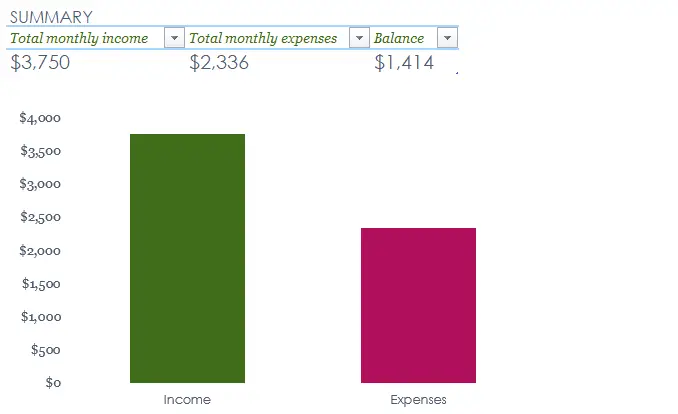 Step7: Percentage of income spent is automatically calculated as a result of the value in E3. This value is then represented as a horizontal bar chart from column B to D in the Summary worksheet.

If you still need a custom budget template, you can send us a message.
If you are looking for monthly budget template, check out Microsoft office site by clicking here.