This service invoice template for excel will calculate line item totals, sales tax, and allow you to input Salesperson name , job description, Payment Terms and Due Date for this invoice. And it is very easy to customize and use. And you can download it freely to use it in your business.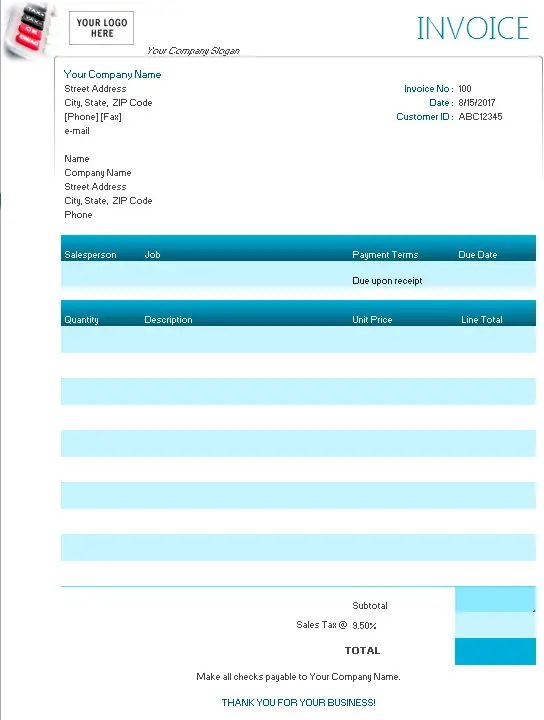 Service Invoice Template Description
 Subtotal: This excel service invoice template will calculate all Line Total amount automatically in Cell E26, and it call one SUM function in this excel cell formula: =IFERROR(IF(SUM(E16:E25)>0,SUM(E16:E25),""), "")
Sales Tax: the default TaxRate is 9.50% in this invoice template, you can change the value of TaxRate in the Cell D27.  If you do not want to calculate the Sales Tax, just leave "TaxRate" as blank
Salesperson: enter sales person name in cell B13
Job: enter job description in Cell C13
Payment Terms: enter payment terms in cell D13
TOTAL:  The Total Amount will be calculated automatically in Cell E28 using excel Formula: =IFERROR(IF(SUM(Invoice[[#Totals],[Line Total]])>0,SUM(Invoice[[#Totals],[Line Total]],E27),""), "")
You need to enter into your company information in the left upper of the invoice template. Such like: company logo, company name, address, phone…
You still need to enter your invoice number and customer ID and the company information of your customer.
Service invoice Template Download
You can click the below download button to get this service invoice template for free.
[pdownload]Download[/pdownload]