Type one sentence in one cell, words are separated by space or a fixed separator. For this type of sentence, if we want to split them into words (save one word into one cell), we can split them via 'Text to Columns' function in excel. This article will show you the details to split sentence, let's get started.
Precondition:
Split below sentences into words.

Method: Split One Sentence into Words by 'Text to Columns'
---
Step 1: Select the sentence you want to do split.
Step 2: Click Data in the ribbon, then click Text to Columns in Data Tools group to trigger Convert Text to Columns Wizard.

Step 3: In 'Step 1 of 3', check on Delimited option. Then click Next.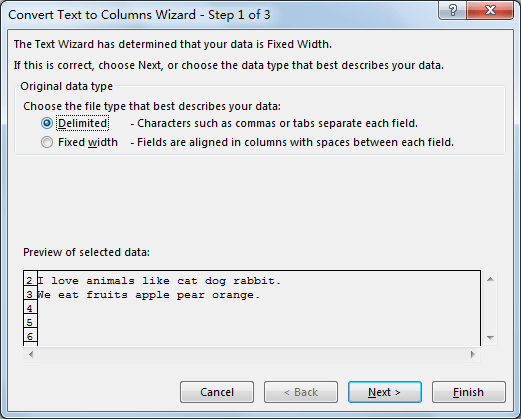 Step 4: In 'Step 2 of 3', check on Space option in Delimiters section. You can see that in Data preview section, sentence is split into words properly. Click Next.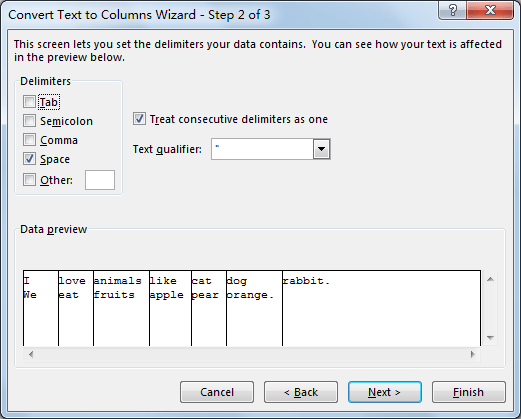 Step 5: In 'Step 3 of 3', just click Finish. If you have other requirements like change data format, you can also select 'Column data format' on this screen.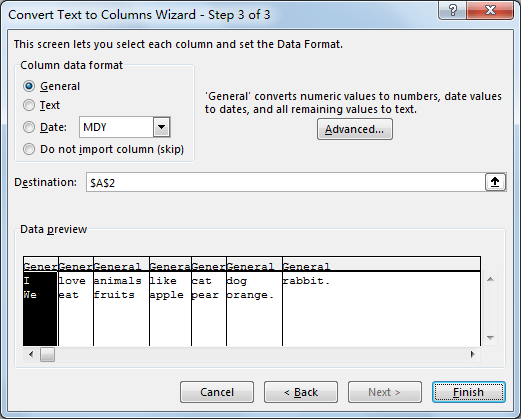 Step 6: Check the result. Verify that sentence is split into words properly.

Comment:
If words in sentence are separated by other separator like comma or others, you can check on them accordingly. See screenshot below.