Sometimes we need to export worksheet or workbook from excel file to PDF type then we can insert them into PPT or Word for presentation or reporting or other purpose conveniently. In previous article, we have introduced the way to export chart into PDF type. We will introduce you the way to export worksheet or workbook into PDF in this article. Actually, the two ways are similar. We can through Save as function to save worksheet to PDF type easily.
Precondition:
Create a table in sheet1.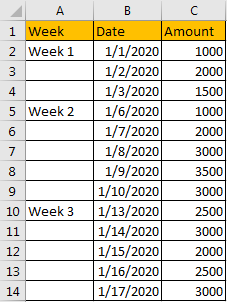 Method: Export Worksheet/Workbook as PDF Type by Save As
---
Step 1: Select the range you want to export as PDF. Refer to above screenshot select A1:C14.
Step 2: Click File in ribbon.

Then select Sava As.

Step 3: You can click This PC or Browse to select save chart location. If you want save it in your computer, select anyone is ok.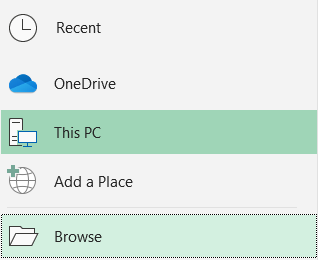 Step 4: After choosing save PDF file location, enter File name as Sheet1, in Save as type dropdown list select PDF. Then click Save.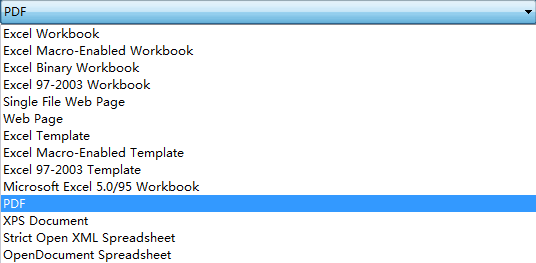 Step 5: After saving, Sheet1.pdf pops up in the front of screen automatically.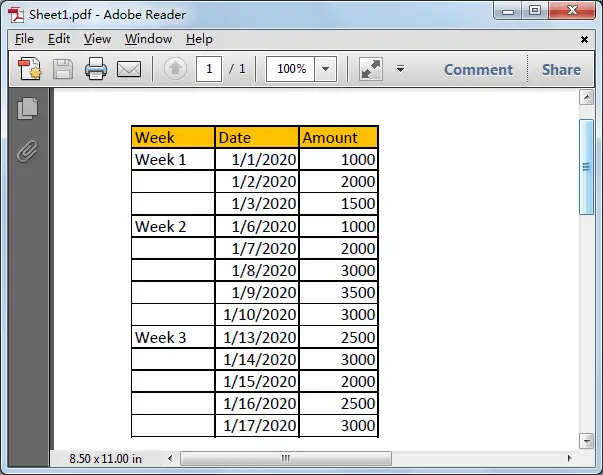 Step 6: Close Sheet1.pdf file. Enter your selected location for saving PDF file, I save it on desktop. Check exported file in desktop. Verify that sheet1.pdf icon displays properly. You can double click on it to open sheet1.

Comments:
1: If you ignore step1 (don't select any range on current worksheet), the entire worksheet will be exported and displayed in exported PDF file. See screenshot below.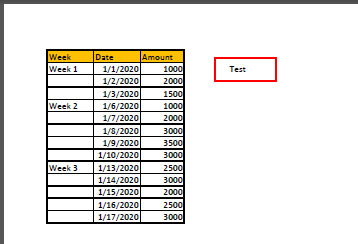 If there are multiple worksheets exist in one workbook, only the opened one is exported.
If you want to export all worksheets or some worksheets, you can hold on Ctrl key and select the worksheets you want to export, then repeat above steps to do export. In this case worksheets will be exported into one PDF file but one worksheet displays in one page.
Press Ctrl key to select worksheets:

One worksheet one page: