How to Copy and Paste Merged Cells to A Single Cell in Excel
Usually, if we copy a merged cell, then after pasting the cell, the cell is also merged. Sometimes we don't want to copy merged cells like this, so if we want to copy the merged cell into a single cell how can we do? This article will help to you to solve this issue, you can see the details by following steps.
Copy and Paste Merged Cells to A Single Cell
---
Below table contains three merged cells.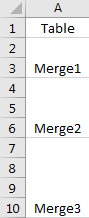 Step 1: Select the range you want to copy and paste. In this case select the range A1 – A10. Click Copy or press Ctrl + C to do copy.
Step 2: Select the destination you want paste the cells. Then press Ctrl + V to paste the cells directly.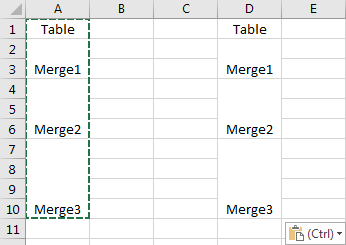 Refer to above screenshot we can find that the paste cells are still merged. So we need to solve this issue then.
Step 3: Click

  in the right bottom, then click the arrow to load Paste selections. Click the third icon Formulas & Number Formatting (O).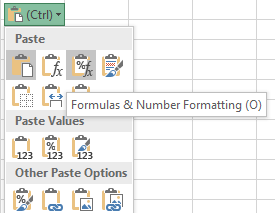 After above step, the value in each merged cell are moved to each single cell properly.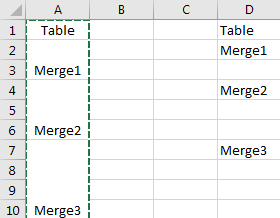 Note:
This way can help you to paste merged cells into each single cell, but if there are adjacent merged cells, they cannot be adjacent after pasting to single cell because the blank cells (exist in merged cells) also need place to store them. You have to delete these blank cells manually to make cells with values adjacent.