Whenever there is a holiday season, people go to the mall to buy things. Because there are great discounts at the mall during the holidays, this is a time when you can buy more gifts for your family or friends around you that are usually more expensive. If you buy a lot of things, then you can take steps to mitigate the financial loss during the holiday season by creating a holiday shopping budget.
Before you get ready to shop for the holidays, here are some things you need to do to prepare
Review your finances and look at your holiday budget from last year to give you an idea of how much you spent last year and how much budget you should allocate for specific gift categories this year.
Make a list of the gifts you plan to buy and the costs
Develop a holiday shopping budget spreadsheet
This article is going to describe a free Excel holiday shopping budget template that will help organize your holiday shopping, keep track of what you want to buy, what you have already bought, and the cost of what you buy, who you are shopping for, and more.
Holiday shopping budget
This Holiday shopping budget is officially provided by Microsoft Excel, you can create the template directly in Excel Tools or download it from the official website.
You can organize your holiday shopping with this Holiday shopping budget template.
This template contains 3 sheets: Holiday budget, List entry, List info.
where,
Holiday budget: This sheet is the summary information sheet for the entire holiday shopping template, including the total cost of the gifts you want to buy and the cost of the gifts you have already bought.
List entry: This sheet contains a detailed list of all items purchased.
List info: This sheet contains the types of gifts and a list of relatives or friends.
Let's take a look at how to use this holiday shopping budget template:
Step1: Open Microsoft Excel Spreadsheet, click File menu, click New submenu
 Step2: In the New dialog box, find the Template search box, enter the Holiday Shopping Budget keyword and press Enter and you will see the Holiday Shopping Budget template.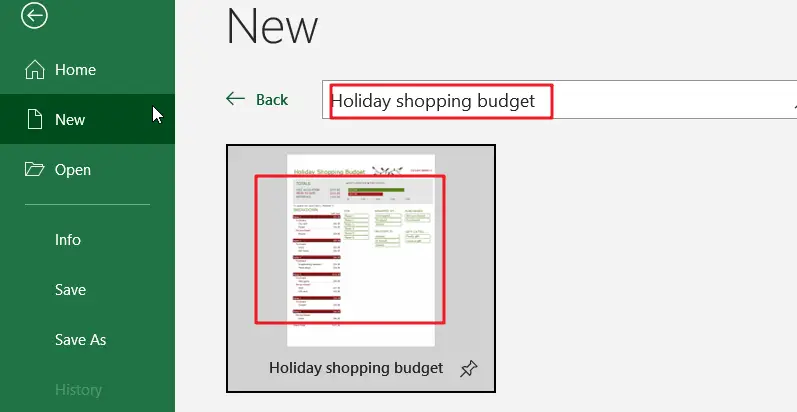 Step3: Click the create button to download the selected holiday shopping budget template to create a new holiday shopping budget spreadsheet.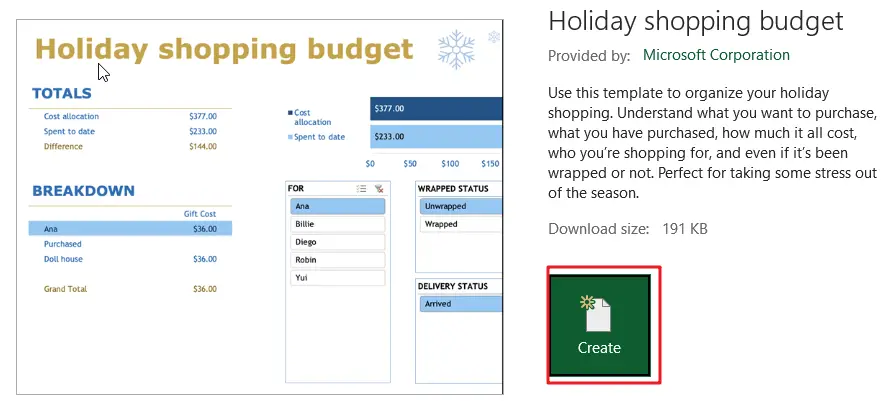 Step4: You need to add or modify People names in PEOPLE column. And adding Gift Categories in GIFT CATEGORIES column for drop-down list in List Entry worksheet.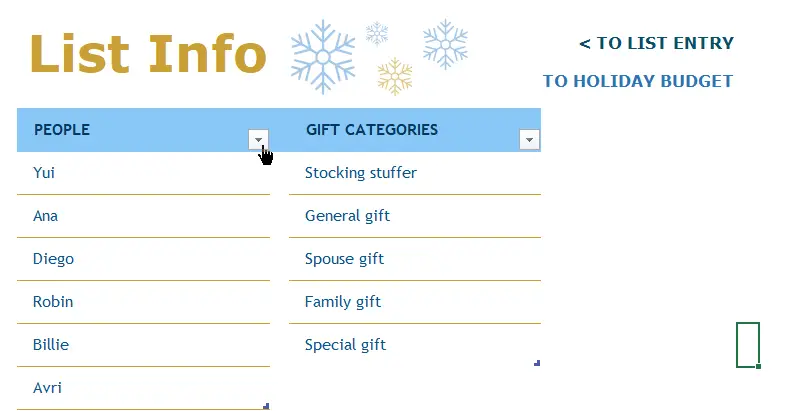 Step5: You need to create a shopping list in List entry worksheet. And you need to enter shopping details in Gift Data table. Such as: NAME, GIFT CATEGORY, GIFT, COST, PURCHASED, DELIVERY STATUS, WRAPPED STATUS, etc.
Step6: You can go back to the Holiday budget worksheet and see the summary of the entire holiday shopping. All the summary information will be automatically counted.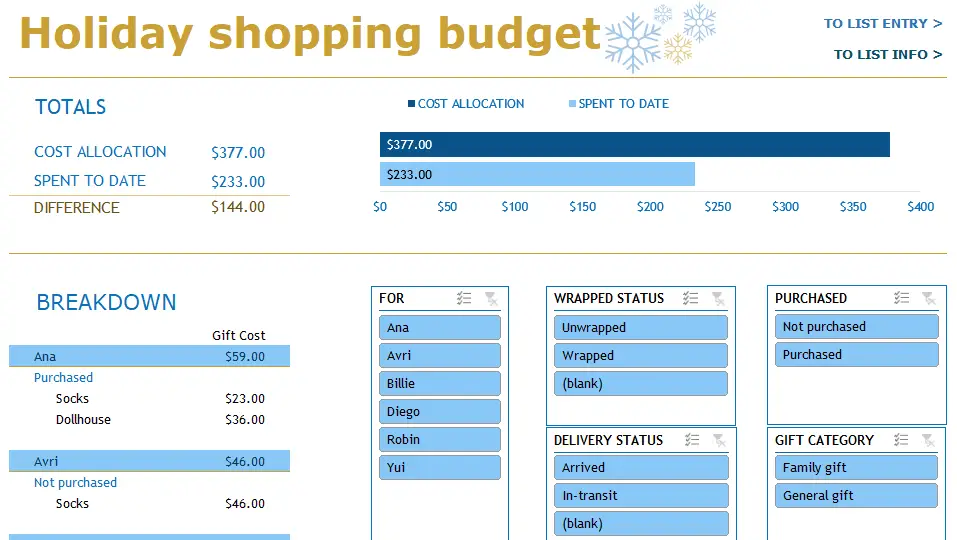 If you have any other personalized custom budget template needs, you can send us a message.
If you are looking for Holiday shopping budget template, check out Microsoft office site by clicking here.