This post will guide you how to copy cell content and paste them to another cell without formula in Excel. How to copy excel values or numbers without formula in Excel. How to copy and paste values without formulas in Excel. How to create a copy of an excel worksheet without formulas.
If you want to copy cell content without formula, you can use the Paste Special command to achieve it. just do the following steps:
#1 select the range of cells that contain formulas

#2 press Ctrl +C shortcuts in your keyboard to copy those selected cells.
#3 select one cell as your destination, and right click on it, select Values option under Paste Options from the drop-down menu list.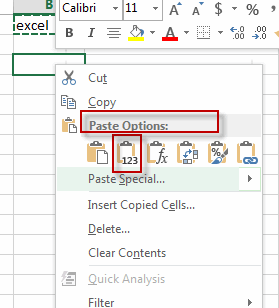 #4 all values will be pasted in the destination location without formula.