Everyone will be very much looking forward to their wedding, but actually preparing a wedding is very complicated and trivial, there are many small details to pay attention to, we will list in this article a comprehensive list of each detail to be prepared, according to the actual needs of the bride and groom, customize your own wedding plans. Our wedding planning list is organized by month, and couples can also adjust each plan according to their own time before and after.
We will also share with you some free printable wedding planning checklist templates. You can customize your own wedding planning spreadsheet based on these free templates to fit your own requirements.
You can also design it as a printable wedding planner so that you can plan your wedding better.
12 Months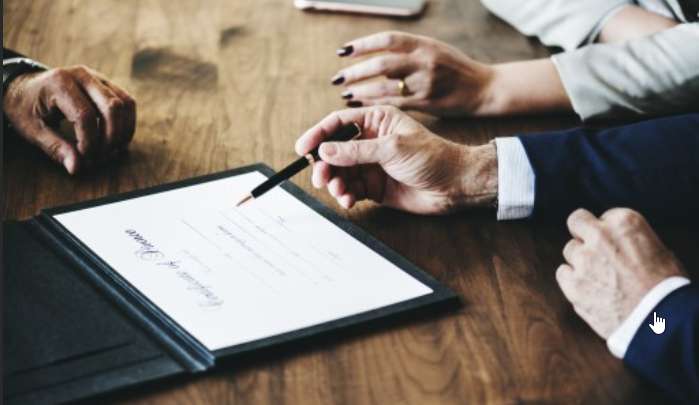 1. Confirm Wedding Date
The bride and groom can choose a wedding date in consultation with each other, and it is best if everyone is available to attend your wedding. It is best to choose 2-3 more dates as a backup so that you will not be overwhelmed if there are changes in your plans.
2. Marriage Application
After getting engaged, depending on the location, you can prepare your personal documents to make an appointment for a marriage application online or at the town hall.
Depending on the religion, you can start making appointments with a trusted and familiar priest and church to have the priest attend your marriage ceremony; if you are atheist, you can choose a judge and get a marriage certificate at the court; or you can choose to go to the city hall to have the mayor issue a marriage certificate for you.
3. Wedding Budget
Discussing a budget is the most important part of the pre-wedding process. This is because the budget determines what your wedding will look like in the end. All services need to be supported by money.
When discussing the budget, the bride and groom need to be sure who contributes mostly to the budget and what parts it consists of, such as whether the couple contribute more, or the groom's family contributes more, or the bride's family contributes more.
In the process of discussing the wedding budget, make sure that both sides can discuss peacefully and finalize a reasonable budget.
It's also a good idea to set aside some backup for additional expenses. We want to keep the final spending within a reasonable amount. The budget is the core of the wedding planning list, determine a good budget, so that the subsequent plans can be reasonable.
You need to create a wedding budget spreadsheet based on your actual situation, so that you can better control the wedding expenses.
4. Making a Wedding Guest List
Each couple may have different needs for wedding planning preparation, but the same thing is to create a wedding guest list. A wedding guest list will provide statistics on the gender of the guests, relationship with the bride and groom, contact information, addresses, dietary preferences, habits, wedding table plan, etc.
By making a wedding guest list, you can make a prior assessment for sending invitations, designing the banquet, wedding seating arrangement, sending gifts, etc. and avoid unnecessary troubles.
There are many free templates for wedding guest list online, and many templates on our website, you can search online for free templates that best meet your requirements, or of course, you can pay for more advanced and functional templates, or even customize the templates.
5. Determining the Wedding Theme or Style
Designing a wedding theme should be one of the most important concerns of the couple, and is also an important part of the wedding to do list. Because a wedding is once in a lifetime for most people, everyone wants to have an unforgettable and unique wedding.
Since everyone has different preferences, it is important for the bride and groom to discuss the wedding theme and try to meet the requirements of both parties.
Some people like fairy tale themes, some like paradise themes, some like garden themes, others like vintage and cosplay, etc. The main thing to determine the wedding overall theme is that both sides like it, but also to consider the budget, whether the Wedding venue is good to find, whether it will make the guests feel relaxed and happy, etc.. Couples can find some photos of the theme online and see if they like it.
6. Finding a Wedding Planner / Assembling a Wedding Team
This team can be a hired professional wedding planner or a personal friend or family member. You can choose a professional wedding planner, professionals can help you save a lot of time, very efficient and no mistakes, they will recommend or arrange the wedding venue, activities and other logistical matters for you according to your budget, help you deal with a lot of loose ends, so you do not worry too much, but of course hiring a team is expensive.
Of course, you can also ask other friends and family for advice. Friends who are already married can provide you with a lot of friendly and practical help, so that you can avoid mistakes in the process of preparing for the perfect wedding planning.
As public acceptance grows, you can also take on some non-traditional wedding challenges to make your wedding unique and memorable. Develop your brain, it's all about making your wedding perfect!
7. Selecting a wedding venue
After determining the wedding theme and style, it's time to select the wedding party venue. Some people like to have their wedding at home on the lawn, some want to go to a restaurant for a big meal, some like to have their wedding at an amusement park, some like old castles, some like the beach.
Before selecting a venue consider whether you plan to find a free venue or a paid one, public or private. When searching for a venue, identify your keywords, such as free, beach, available for weddings, etc. In addition to fitting the theme of the wedding, the venue should be able to accommodate a large enough number of guests, be able to host guests, and provide the ability to hold the wedding.
8. Selecting a Caterer
Usually after the venue is determined we have to start thinking about finding a caterer. If the venue has the ability to provide a caterer, you can contact the venue's caterer directly and can see what they have provided for the wedding before. If not, it will have to be outsourced to another catering company. If you wish, you can also find your favorite chef and prepare it yourselves.
11 Months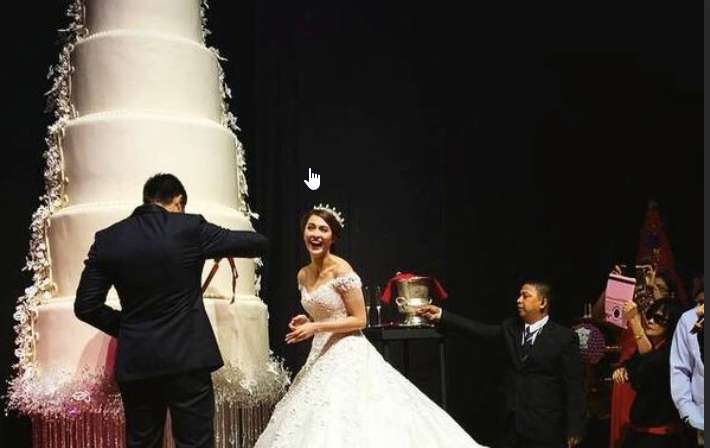 1. Designing wedding cakes, dessert tables
– Wedding Cake
Legend has it that in ancient times when rich families held weddings, the bride and groom would make a very large flat round loaf of bread and everyone would share this large loaf of bread, meaning sharing happiness and joy. Slowly the flat round bread developed into the current cake.
More and more brides like to customize their cakes and are very particular about them. Modern wedding cakes are not limited to the traditional style, there are many choices. There are single tier cakes and multi tier cakes, square and round shapes. Multi-tiered gorgeous cakes can be seen by every guest at the wedding, leaving a deep impression on the guests.
Nowadays, wedding cakes are also decorated with great care and can be made unique with flowers and ornaments. But the more luxurious the cake, the higher the cost. The bride and groom can consider the option of finding a supplier to customize the cake, but also completely handmade cake, two people together to make the cake is also full of love.
– Dessert table
In addition to the wedding cake, you should also start designing the dessert table. Cupcakes or cut up cakes or whole cake pies. You can choose the style of dessert that you both really like, and of course consider the ease of holding and eating for your guests. If there are a lot of small children, consider whether you want to make a lot of cute sweets.
2. Hire a Wedding Planner, Photographer, Band, etc.
If you are planning to hire a wedding planner to plan your wedding, this is the time to start talking to potential candidates. Look for someone you can trust and who understands your wedding concept.
In addition to the wedding planner, you also need to consider whether you need to hire a professional photographer, band, etc. You can choose to have a friend who is good at photography as your wedding photographer to help you with photography and take beautiful pictures.
You can also ask him to help you create a wedding photography checklist or you can do it yourself.
3. Determine the Main Color of the Wedding
According to the theme and style of the wedding to determine the main color of the wedding, of course, you can also choose your favorite color or lucky color. The main color of the wedding can help to better choose the wedding dress, allowing guests to choose the right dress to attend the wedding.
10 Months

1. Plan Your Honeymoon Destination
First of all, it is still necessary to consider the Wedding budget, not only the overall amount of money to be spent, but also the proportion of each expense, for example, 50% of the cost of accommodation, 30% of transportation, the percentage of food and beverage, etc., to determine which one you are more willing to spend money on and which one to save money.
Then estimate how long you can set aside for your honeymoon, that is, the length of the honeymoon, if the time is long, the choice will be very much; in considering the destination of the honeymoon first of all to consider their interests, must be the place you want to go, but also to consider is the main leisure and relaxation, or to explore the discovery for fun, is domestic or foreign, is a city or multiple cities, but also consider whether the destination is safe.
Also consider the seasonal factors, such as where to go in winter, where to go in summer, etc.
The bride and groom can provide their own honeymoon destination for both parties to choose from, such as beaches, islands, African savannah, famous cities and so on.
Regardless of the final choice, it is important to be considerate of each other.
2. Buying a Wedding dress / Lingerie / Wedding shoes / Veil / Gloves, etc.
As a bride, everyone wants to be the brightest and most beautiful person at the wedding, a beautiful and suitable wedding dress is essential. You can start ordering your wedding dress about 10 months before the wedding. Make a good strategy online to determine the wedding dress brand, style, you can choose a wedding dress that suits your body shape, and your usual dressing style.
If you consider renting, then you can start looking for a wedding dress renter. The veil can be matched with the wedding dress, or can be purchased separately, and there are even brides who like the simple style without the veil. When buying wedding shoes, consider the comfort of the wedding shoes, whether they are also suitable for other occasions, etc. After the wedding dress is determined, you should buy the right underwear.
3. Selecting a Wedding Cake Supplier
After determining the style of your wedding cake, you can take the model or drawing to find a wedding cake supplier. You can also go directly to the cake supplier to provide your ideas and inspiration to the cake makers to design the cake style, you can communicate the details of the cake such as what material to decorate the outside, whether it is edible, what kind of jam to use inside the filling and so on.
If the cake is not very complicated, you can choose an inexpensive cake store or even make your own. When choosing a cake store, in addition to the taste of the cake, you should also consider the transportation of the cake, whether the cake maker will make it on site or have it delivered in the store, and the delivery should be careful not to damage the shape of the cake. This is to ensure that the cake store should not be too far from the wedding venue.
4. Designing Bouquets, Arrangements and Other Decorative Items
If you are a design genius, this is the time to start thinking about your wedding bouquet, how many bouquets you need, the variety of flowers, how to decorate them, whether you need ornaments and so on. You can browse many wedding websites, wedding pictures, reference to how others are decorated, these samples can provide you with inspiration.
5. Book Suppliers for Bouquet Arrangement etc.
Once you have designed your flower decorations, it's time to start looking for a flower bouquet supplier. You can leave it to a professional wedding planner to provide flowers and flower decorations, or you can start growing flowers in your yard.
9 Months

1. Book a hotel for the wedding guests
Once the Wedding guests for the wedding have been determined, the bride and groom will need to start thinking about the guests' accommodations. If you are just hosting a luncheon or dinner party at home or locally, accommodation will be omitted, but if you have guests coming from far away, you will have to start thinking about booking hotels for them.
Check multiple websites for booking hotels based on the guest's preferences and usual hotel habits to choose the right one, and you may also get a good discount if you book in advance, and see if you can cancel the reservation, if breakfast is included, and other conditions when booking.
If you are staying in a private residence, you can start assigning rooms to take care of the needs of your guests; older people may prefer quiet and younger children may need a larger area to move around.
2. Create a wedding website
In order to let everyone know about your wedding and send you well wishes, the couple can create their own host event on the wedding website.
Design your own save-the-date card, which can be sent directly to your friends and family through the website. Family and friends will pick out gifts for you, so look forward to it.
You can also print the wedding page link to your save-the-date cards in the traditional way, so that your guests will pick out gifts for you when they receive the invitation.
3. Designing Wedding Invitations
Nowadays there are very many free templates for wedding invitations, and the designs are very beautiful and stylish. If the couple wants to save the step of designing the invitations, they can just find the template they like on the website and make a few changes to turn it into their own invitation.
If you wish to design a unique invitation yourself, you can add your story, profession, and the process of meeting and falling in love to the invitation.
Invitations are usually sent out six to eight weeks before the wedding, so it's important to get a good idea of when you want to design your invitations.
8 Months

1. Practice Taking Wedding Photos
There are many popular photos on ins, you can try more according to their poses, take photos from different angles and find the pose that makes you most photogenic. If the wedding photographer has time, you can make an appointment to practice taking photos, which will make your wedding photos shine.
If you have high requirements for wedding photos, or the photographer is not satisfied after the shooting, it is time to communicate and point out the need to improve, to see if you need more professional equipment, or need to purchase some auxiliary equipment such as fill light.
2. Choosing A Gift
In some countries, gifts are not required, but if you are planning to give your guests a small token of your appreciation, consider preparing some gifts. You can choose something memorable, such as a small perfume with your signature on it, chocolates, or a small mug.
3. Determining the Witnesses/Bridesmaids/Groomsmen
This should not be a problem. Many people, even if they are not in a relationship, have decided who they want to be their witnesses, maid of honor, and best man.
Many bridesmaids and groomsmen are the closest childhood friends, the most trusted friends, and the most compatible partners.
4. Determine the Wedding Speech
It can be someone who witnessed your relationship, a close elder, a trusted official, the groomsman is fine.
5. Determine the wedding host
The host can be your family and friends, if the wedding is more serious and sacred, you can ask a priest you trust, or a respected person; if the party is relaxed and happy, you can find someone who can liven up the atmosphere; the newlyweds can also officiate the wedding themselves.
6. Choosing A Bridesmaid Dress
The bridesmaid is a very important person in the wedding, she witnessed your love, buy a beautiful bridesmaid dress for her. Bridesmaid dresses should be the same style as the wedding dress and not vary too much.
As a thoughtful bride, the bridesmaid dresses should not be too fancy, but suitable for the bridesmaids.
7. Hiring A Band or DJ / Hiring A Musician for the Ceremony
If you have the ideal band, DJ, you can sign a service contract.
8. Booking a Rehearsal Wedding Banquet Venue
The wedding is not just a matter of setting the date, venue and process. Even if everything is ready, the wedding process needs to be rehearsed beforehand to see if there are any improvements that need to be made.
Traditionally, the groom would book a rehearsal banquet venue for the bride and groom and attendants to rehearse.
9. Determine the Rental Items
If you're having a lawn wedding, you'll need chairs, a serving table, a cold table, a canopy, and many other items. If you are buying all of these items yourself, consider the price point of the configuration and services.
The more pleasant If you are outsourcing to a wedding planner, see if you are satisfied with the options they offer and if you want to upgrade your services.
7 Months

1. Prepare A Gift List
The bride and groom can sign up for your gift list on the wedding website to make it easier for guests to choose. You can list the gifts you want, such as small appliances, tableware, etc. These gifts contribute to the creation of your new family.
2. Send a Save-the-Date Card
It's time to send out the cards. Let everyone know the date and location of your official wedding. Everyone can go to the wedding website to pick out your gifts.
3. Buy or Rent the Groom's Suit
You can purchase a well-fitting suit for the groom, go to a store to get measured and choose the right size and color, which should match the bride's wedding dress. If you want to save budget, you can consider renting a groom's tuxedo. If the groom holds to an eco-friendly and simple style, he can also wear a simple shirt.
4. Pre-marital Counseling
After the engagement ceremony, some couples may have certain fears about entering into married life, and may think nonsense and feel stress about the future life of two people. This is the time to avoid ruminating and to seek counseling from a psychologist or to relax with friends. Both sides should be honest face for the problems in the marriage, to find the right solution.
6 Months

1. Booking of Guests' Transportation / Car Rental
Whether you are going to a church to receive a marriage certificate, or to a restaurant, or to a party venue, you will have to rent a vehicle to take all your Wedding guests to the designated venue. Couples can start renting a car. If your wedding venue is in another country such as an old Scottish castle, start booking tickets.
2. Booking Transportation for The Newlyweds
How do you arrive at the party venue after receiving your marriage certificate? Should we rent a limo? Or a cool motorcycle? Or maybe just walk? If necessary, rent a wedding car of your choice, although the fee is not low, but you can get to the party venue in comfort.
3. Discuss The Menu with The Caterer/Try The Meal
If holding your party at a restaurant, start discussing your meals with the restaurant's chef. Experienced restaurants will offer many wedding party catering combinations, or you can order your own.
This stage is mainly about trying out all the possible foods that will be available at the wedding reception and combining a menu.
4. Determine The Wedding Cake / Dessert / Sweets
Once you have decided the dessert supplier, the supplier will provide many kinds of desserts, so you can take time to try these desserts and choose your favorite flavor.
Trying the cake will allow the cake maker to make adjustments to suit your tastes. The wedding cake will also have to be finalized.
5. Buying Wedding Rings
Usually, a diamond ring is given by the man for the woman at the time of engagement; after the engagement, both parties have to purchase a wedding ring.
Traditional wedding rings are round rings, and branded wedding rings can be considered if you have an adequate budget. The wedding ring has to meet the preferences of both parties because it is for both parties.
5 Months

1. Designing Wedding Hair and Makeup
In addition to the wedding dress and gown, the right hair and makeup will make the bride and groom shine on their wedding day. Hair and makeup should match your own traits and also match your dress.
During the time before the wedding ceremony, you can refer to celebrities or wedding ads to see if there is a hairstyle and makeup you like. If there is a makeup artist that you like, you can also ask her to help you design your wedding makeup. If the wedding is a very fresh style and you want to be casual, you can also try to coil your hair and braid it yourself, without being so delicate and meticulous.
2. Determining the Final Dish
After tasting the meals provided by the suppliers, it is the time to determine the dishes. It is necessary to determine the dishes in advance, and if there are rare ingredients suppliers can also be purchased in advance.
3. Communicate with The Officiate about The Flow of the Ceremony
The wedding arrangements should be communicated with the officiate in advance, including the introduction of the couple, the flow of the ceremony, the interaction with the guests, etc.
The bride and groom tell the officiate what style of wedding they prefer, whether they prefer a grand or relaxed wedding.
4 Months

1. Trying on Wedding Dresses
Even if you have already tried on the dress you bought or rented, you should try it on again after you get it. Put on the veil, gloves, accessories, etc. that you will need for your wedding day.
It is a good idea to have a bridesmaid accompany you during this process, assuming it is now the day of the wedding, so that you can spot possible problems in advance and fix any problems with your dress or accessories as soon as possible.
The bridesmaids can also keep a record of any problems that may arise during this process to increase their experience in solving problems, which will also allow the bride and bridesmaids to work better together on the wedding day.
2. Rehearsal of the Luncheon/Dinner
If the requirements for the wedding are high, the wedding is grand, there are more guests and the process is complicated, then you need to rehearse the wedding in advance.
This includes the layout of the venue, whether the tables and chairs are properly placed, the flow of each part, where the couple should appear, the position of the band and so on.
Many problems are found at the rehearsal site, so that problems can be avoided on the wedding day. An appointment for the wedding rehearsal should be made in advance with the venue provider or hotel. The rehearsal will take place at the scheduled time.
3. Choosing Wedding Songs List
There are really many elements that create the atmosphere of a wedding, and beautiful music is an essential part of it.
Whether it is the music when the bride arrives in front of the groom with her father on her arm, the music when the wedding rings are exchanged to seal the deal for life, or the music at the reception, couples should choose a good list of wedding music songs before the wedding.
Many people identify the music they want to play at their wedding before the ceremony and give the song list to the musicians so they can know and practice it ahead of time.
4. Design the Flower Arrangement with the Flower Supplier
After selecting the flowers, designing the arrangement style and contacting the flower supplier, you can ask the supplier to visit the site to see exactly how the flowers should be placed, whether they are restricted by the venue or local temperature conditions, etc.
If the ideal flower design can be implemented, there is no need to change the plan, if not, the arrangement still needs to be adjusted.
3 Months
1. Modify Invitation Template/Order Invitation
Wedding invitations will be sent out one to two months before the wedding, so it is important to purchase invitations three months before the wedding.
2. Purchase a Thank You Gift
If expressing gratitude to a special guest, or a guest who has come from afar, you can purchase a few thank you gifts that are not small gifts prepared for each guest, but are specifically targeted for the special guest. It can be a bottle of good wine, a piece of homemade cake.
2 Months
1. Sending Wedding Invitations
One to two months before the wedding, it's time to send out wedding invitations to friends, classmates and colleagues. Some may need to be delivered in person by the newlyweds, while others will need to be sent by mail.
Start sending invitations according to the address registered on the wedding guest list. Paper invitations are traditional and heartwarming, and if you want to be more eco-friendly, you can opt for electronic invitations.
2. Purchase All Small Items
This is the time to check to see if there are any items that need to be purchased or forgotten. For example, ribbons, small decorative items, etc.
3. Prepare the Gift Bags
Start wrapping the gifts, including the companions and thank you gifts; if there are any decorations to be assembled, start preparing them as well.
4. Check Wedding to Do List or Wedding Scheduled List
Now you can start doing some of the things you need to prepare in advance, check the wedding checking list or wedding scheduled list and tick off all the things you have done.
5. Creating the Wedding Seating Plan
At this point, with guests all identified and the venue confirmed, it's time to start determining the finer points of each guest's location. Seating assignments for elders, friends, colleagues, etc., should be discussed with both parents, as both guests should be accommodated.
6. Making Seating Cards
There are many templates available online that you can print out yourself after choosing; you can also purchase seating cards directly; or they can be provided by the venue service provider (such as the hotel service department) or the wedding planning team.
7. Venue Rehearsal
This time it is a full rehearsal and it is best to invite all teams that provide services, including the band, photography, lighting setup, etc. Once again, after addressing the issues identified in the initial rehearsal, see what the final rehearsal looks like.
8. Prepare the Tip
Prepare the tip and put the tip in envelopes.
9. Trying on Wedding Shoes
In fairy tales, it is said that the prince found his princess by trying on the crystal shoes. Trying on shoes is a very necessary part of a wedding, and the only way to know if the shoes fit is to put them on.
When we buy or customize wedding shoes, we have already tried them on, but the time is also relatively short. After the shoes arrive you have to wear them for a while longer, we have to stand for a long time at the wedding, the shoes must be comfortable.
1 Month

1. Hairdressing / Manicure and Pedicure
To look more radiant on her wedding day, a bride should prepare now by making an appointment with a beauty store for a beauty salon.
In addition to her hair and face, she should also trim her fingernails and toenails and get a full body massage, which will not only relax her body and mind, but will also make her exposed skin look tighter and more radiant.
We have to pay attention to every detail of our body to make ourselves look more beautiful.
2. Trying On the Dress
Try on the dress again to see if it matches the wedding shoes and veil, and if there are any inconveniences when walking around the wedding venue.
3. Packing for the Honeymoon
Some minimalist couples prefer to go straight to their honeymoon after receiving their marriage certificate rather than having a wedding.
While most couples will still have a party, now is the time to prepare your honeymoon luggage. You can make a "Honeymoon Check List" to list all the items you need to prepare so you don't forget them.
4. Determine the final number of wedding guests
A few days before the wedding to reconfirm the number of guests, who can attend the wedding and who cannot attend the wedding.
When the wedding date is near some guests may encounter temporary unexpected circumstances cannot attend the wedding, and some guests who cannot come and have time to attend the wedding, to determine the final number of people, adjust the seating chart to avoid "Not ready" situations on the day of the wedding.
5. Practice Your Vows
Now it's time to practice your wedding vows. Reading them aloud will boost your mood and make you braver. You may be very excited on your wedding day and practicing your vows more often will make you calmer and less nervous on your wedding day.
One Week to One Day Before the Wedding
6. Hive A Good Rest
Eating healthy foods a few days before the wedding will make our skin look better and will prevent us from getting sick from eating greasy, spicy, or unhealthy foods that can affect our condition on the wedding day.
Drink less water the day before the wedding to prevent water retention. Sleep is also important. Although getting married may make us too excited to sleep, it is still important to get enough sleep so that we can be in better spirits.
7. Pre-wedding Preparation
Set up every corner of your bedroom backyard etc. and prepare everything you want to record. Check your wedding check list and make sure every item is completed. Put on your makeup, get dressed, and be the perfect bride and groom to start a beautiful wedding.
Wedding Planner Checklist Template
Below you will find a free editable wedding planning checklist template, which is also a wedding timeline planner, you can design your favorite wedding planning checklist spreadsheet based on these free templates we provide and finally achieve your personal wedding planning goals.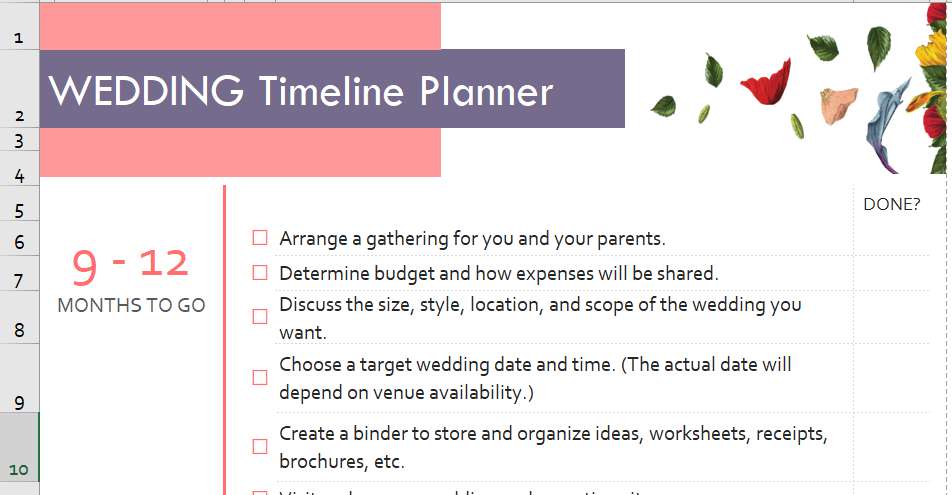 This is a free official wedding planning checklist template from Microsoft Office that allows you to complete wedding planning tasks for 9-12 months, 6-9 months, 4-6 months, 2-4 months, 4-8 weeks, 2-4 weeks, 1 week, and 1 day before and on the day of the wedding.
You can use this wedding checklist as an interactive checklist or you can print it as a PDF file so you can make notes on it whenever you want.
This template is an editable wedding planning checklist spreadsheet that you can open via Microsoft Excel spreadsheet or you can import and use it via Google Sheets.
If you like this wedding schedule planner, then you can search for the keyword "wedding schedule planner" in the Microsoft Excel program and you will see it.